Newsletters are published twice a year. They contain articles related to the mission of the Scholarship. The summer issue introduce the current year scholarship recipient. Click on an image in order to download a pdf or e-publication of that issue. You can sign up on the mailing list to receive notification of new issues as they are released.
Newsletter No. 15, June introduces this year's scholarship recipient, discusses how worldwide efforts to advance agroecology is stymied by the US.
The center pages presents how the UNited Nations tries to develop pathways to sustainable agriculture and gorestry worldwide, but that the US stands in the way. The five levels of transitions towards sustainable food systems show how far we have to go.
This newsletter makes many references to related publications. Below are the links:
Transforming food systems with agroecology
Steve Gliessman
https://doi.org/10.1080/21683565.2015.1130765
The 5 Levels of Transition Towards Sustainable Food Systems Show How Far We Have to Go#14  Agroecological and other innovative approaches for sustainable agriculture and food systems that enhance food security and nutrition (2019)
All HLPE reports are available at www.fao.org/cfs/cfs-hlpe
Opposition to Sustainable Agriculture & Forestry is Powerful
https://www.resilience.org/stories/2021-08-20/qa-the-united-nations-agroecology-negotiations-and-food-systems-summit/
Worldwide Efforts to Advance Agroecology is Stymied by the US
Source: From Institute for Agriculture and Trade Policy (https://www.iatp.org article by Shiney Varghese Jul 14, 2021). Headquartered in Minneapolis, IATP's mission "is to work locally and globally at the intersection of policy and practice to ensure fair and sustainable food, farm and trade systems."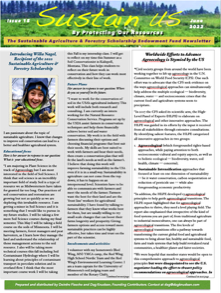 Newsletter No. 16, November 2022 presents legislative findings behind a strict pesticide law introduced in New Jersey and its Montgomery County.
The center pages presents how Pollution Problems are Getting worse and that the solutions are are practical, proven and profitable.
This newsletter makes many references to related publications. Below are the links:
This County Passed a Law to Protect the Health of Its Citizens From Pesticides
https://www.nj.gov/dep/newsrel/2011/11_0054.htm
https://www.panna.org
https://www.jerseyyards.org/threats-to-bays-rivers/new-jerseys-fertilizer-law/
https://www.montgomerycountymd.gov/lawns/law/allowed-pesticides.html
Fruits and Vegetables are Less Nutritious than They Used to Be
www.nationalgeographic.com/science April 29, 2022
New Research shows Soil disturbance can directly impact a key dietary factor associated with long-term human health.
Pennsylvania State University , February 7, 2022
Pesticide Use is Up in the US and All Over the World
Source: Copied from Fig 3.2 in the USEPA report: https://www.epa.gov/sites/default/files/2017-01/documents/pesticides-industry-sales-usage-2016_0.pdf
Minnesota's Impaired Waters List Is Growing—AgainStar Tribune November 13, 2019
The above does not include what is happening to our drinking water!
Report from Minnesota Pollution Agency which can be found at www.pca.state.mn.us/sites/default/files/wq-am1-10.pdf
Soil Health Practices increased net farm income an average of $52.00 per acre for corn growers and $45.00/acre for soy bean growers as reported by the Soil Health Institute.
The report can be found at https://soilhealthinstitute.org/app/uploads/2022/01/Economics-of-Soil-Health-Minnesota-04-12-21-vFinal.pdf
'Green' programs encourage Minnesota farmers to fight water pollution
By Chloe Johnson (https://www.startribune.com/chloe-johnson/9346094/)
Star Tribune JULY 26, 2022